On Tuesday, at my final science group meeting for the semester, my group members and I somehow started talking about children's television shows (we got our work done, Mom, I promise). Of course the first one that came to my mind was Arthur, we mentioned Sesame Street and Zoboomafoo and had a good laugh about the cheesy, yet educational shows we watched when we were little. But, if you are a Foote (and maybe if you aren't, I wouldn't know),thinking of any show on Channel 4 makes you start singing...
"Having fun, isn't hard, when you've got a library card!" -Arthur
"A-A-R-D-V-A-R-K" -Arthur
"ZOBOOMAFOO! With the Kratt Brothers! While walking in the woods one day, Chris and Martin saw something strange..." -Zoboomafoo
"Butterfly in the sky! I can go twice as high!" -Reading Rainbow
"Sunny day, sweepin' the clouds away! I'm on my way to where the air is sweet! Can you tell me how to get, how to get to Sesame Street?" -Sesame Street
AND who could forget...
"Come on and ZOOM come on and ZOOM come on and Zoom-a Zoom-a Zoom-a Zoom!"
I really enjoyed taking this trip down memory lane this week. Hopefully this put a little smile on your face, too!
Now I'm going to watch some Zoom episodes on YouTube. =)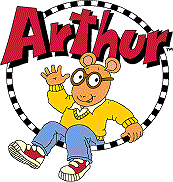 Speaking of Zoom...
YUMMMMMMMM